Ranging from little advancements to radical innovation breakthroughs - Chun Wo never stops moving ahead with its commitment to reshaping the present and future of construction in the wave of Property Technology (Proptech) and innovation.
Weathering the storm with "Go-beyond" innovation
It is no secret that the construction industry is facing a continuously bloated budget, skilled workers shortage, and productivity lag. Spurred by the COVID-19 pandemic, these challenges have been particularly evident, forcing changes and evolution in the industry. As early as 2016, Chun Wo launched its innovation brand "Inno@ChunWo" to get a head start on advancing innovation and Proptech in construction sustainability while also enticing and nurturing the young talented, more importantly, to tackle the industry's root problem - labor productivity lag.
After the passage of 6 years, the Chun Wo project team is still actively collaborating with universities, architecture, and engineering firms, and marked several significant milestones with its successful development of various proprietary and game-changing technologies on its journey of revolutionizing the industry.
Smart, Safe and Speedy — "3S" Solutions to uplift productivity
2019: R2M2
Intended to shake up the building and construction industry, Inno@ChunWo has developed the Rapid Repairing Mortar Materials (R2M2), a newly invented construction repairing material, in collaboration with HKUST, Nano and Advanced Materials Institute Limited (NAMI), that allows workers to smartly recover spalling concrete and corroded rebars by simply patching alone. Compared to the conventional method, R2M2 offers a safer and more expeditious concrete spalling procedure to enhance efficiency.
Chun Wo R2M2
2020: MiC
The Chun Wo Group has not only adopted MiC technology but has also gone above and beyond by developing a more comprehensive modular system. In conjunction with the patented "Wall Connection Technology" co-developed with the P&T Group, breaks the limitations of traditional construction and MiC technology by reducing the wall thickness to suit the market desire of "living bigger". It provides a more cost-effective and utilizable technique while helping to speed up the construction process with higher quality.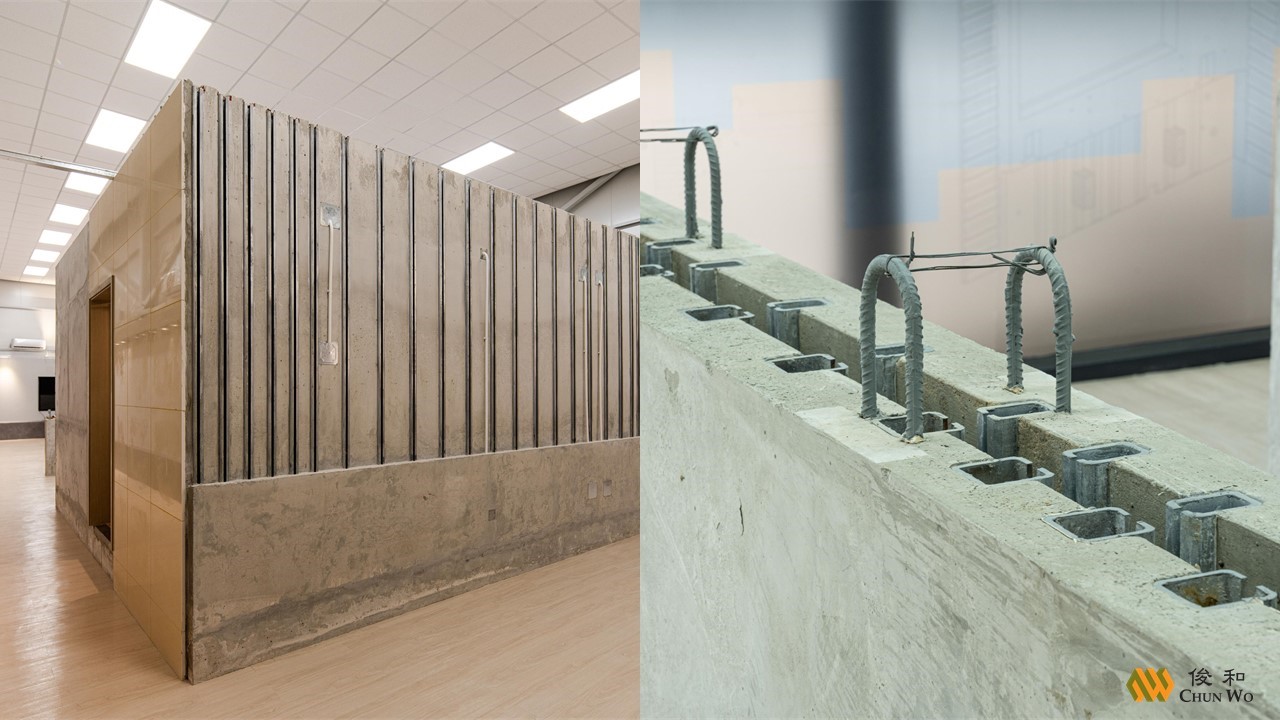 2022: Robotic Arm
Another issue confronting the construction industry is the high rate of injuries. To safeguard the health and safety of its workers, Chun Wo and CUHK have created a cable-driven robot system to free workers from working at heights. Currently, the system can perform autonomous window cleaning and façade painting, and the next phase of the robotic system is expected to be a long-term solution to the construction safety and labour shortage problems, by assisting in more high-risk jobs such as inspecting cracks, water leakage, and void behind tiles.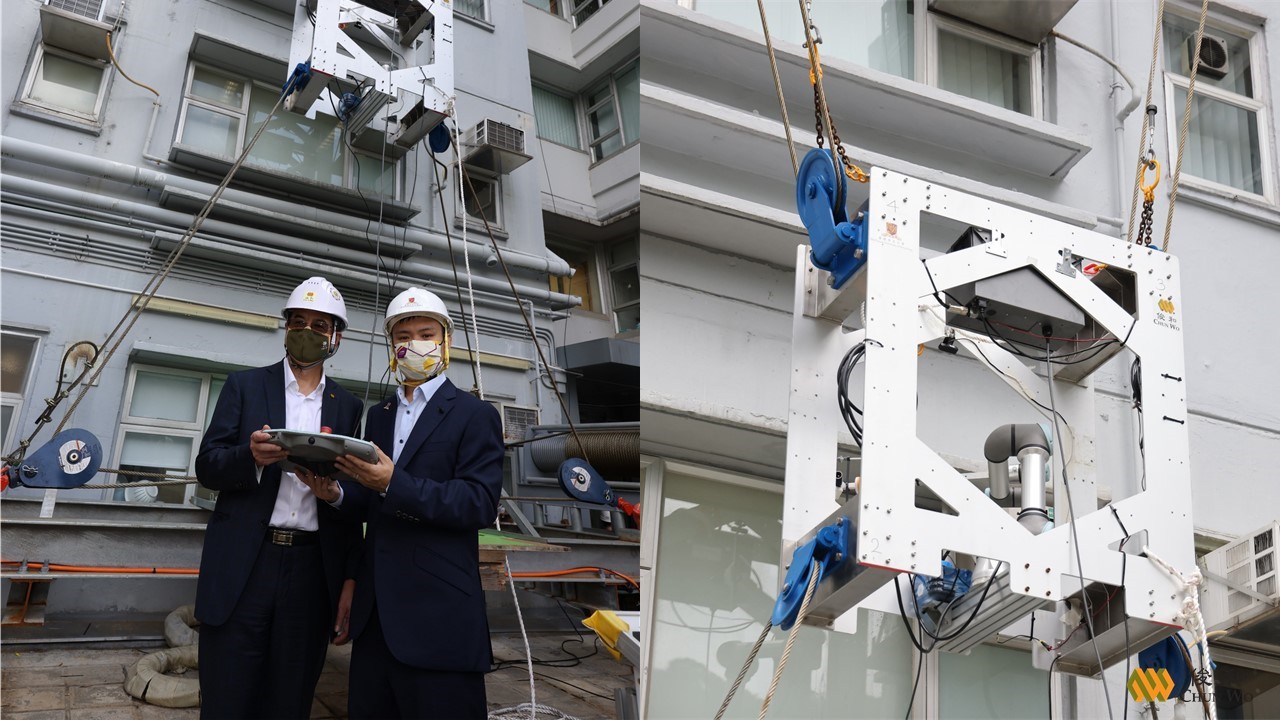 New: Smart Control Centre
In 2022, Chun Wo set up a 'Smart Control Centre' at the Hiu Ming Street Construction Site to smartly measure, predict and prevent safety incidents. Using an Internet of Things (IoT) system, sensors and detectors such as AI cameras, helmet detections, RFID danger zone detection, and environmental monitoring systems can collect real-time data on site safety and environmental performance, for example, temperature, dust level, and even worker' status. Site managers can access a wealth of data through management dashboard and create follow-up measures that can help them keep their worker's safe while also improving operational productivity and efficiency.
In addition to enabling better management on construction sites, the system also ensures workers' safety through smart tracking and automated alerts. For instance, the safety helmet and danger zone detection can instantly warn workers in hazardous areas and send real-time alerts and recordings to site managers.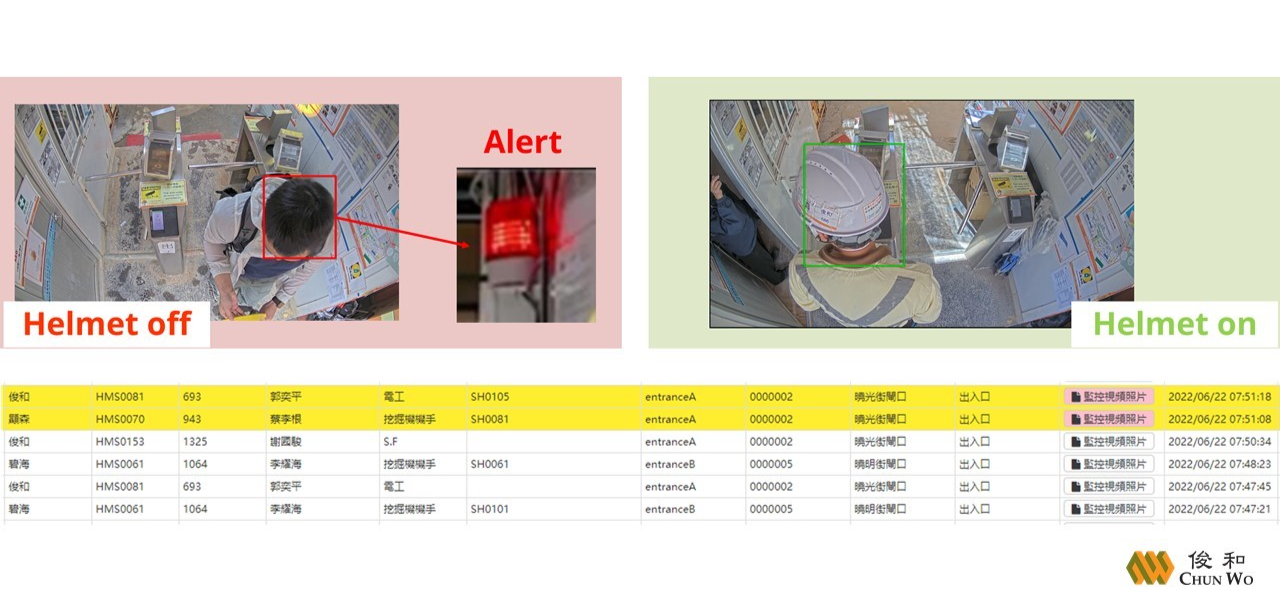 Chun Wo's 3S solutions —smart, safe and speedy— are more than just an idea, and of course far more than what has been introduced above. As a leading construction enterprise based in Hong Kong, Chun Wo Group is committed to advancing Protech and revolutionizing the industry with its expertise, audacity, and innovation. Chun Wo's dedication to R&D and innovation is a testament to its unbounded spirit and efforts to continue making a difference in the industry.