As companies in Hong Kong continue to place an increasing emphasis on Environmental, Social and Governance (ESG) goals, The Luk Hoi Tong Company Ltd. and its flagship commercial building LHT TOWER in Central constantly look to address these tenant needs with the implementation of sustainable technologies. Specifically, LHT TOWER is currently striving to improve the overall Indoor Air Quality (IAQ) in its office environments by adding simple technological upgrades.

According to National Human Activity Pattern Survey (NHAPS) published by the Lawrence Berkeley National Laboratory, employees on average spend approximately 90% of their time indoors. As a result, IAQ will greatly affect occupational health, especially when we are consistently dealing with environmental airborne virus transmission risks such as seasonal influenza and pandemic viruses. To achieve the industry-wide recognized ESG Key Performance Indicators (KPI) B2.3 on Health and Safety1 as well as KPI B8.2 on Community Investment2, The Luk Hoi Tong Company Ltd. partnered with Monitair, a company that specializes in IAQ solutions, to introduce Bipolar Ionization technology to LHT TOWER.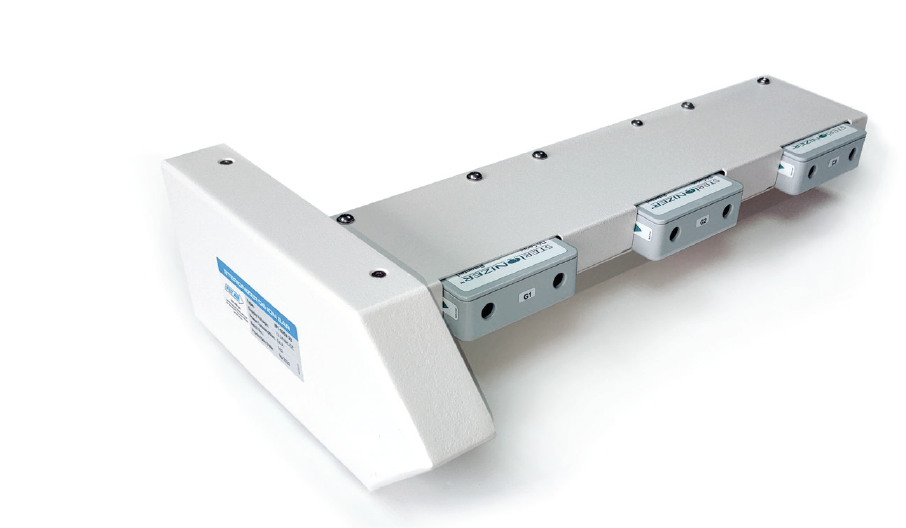 Caption: Ionbar from IAQ solution provider Monitair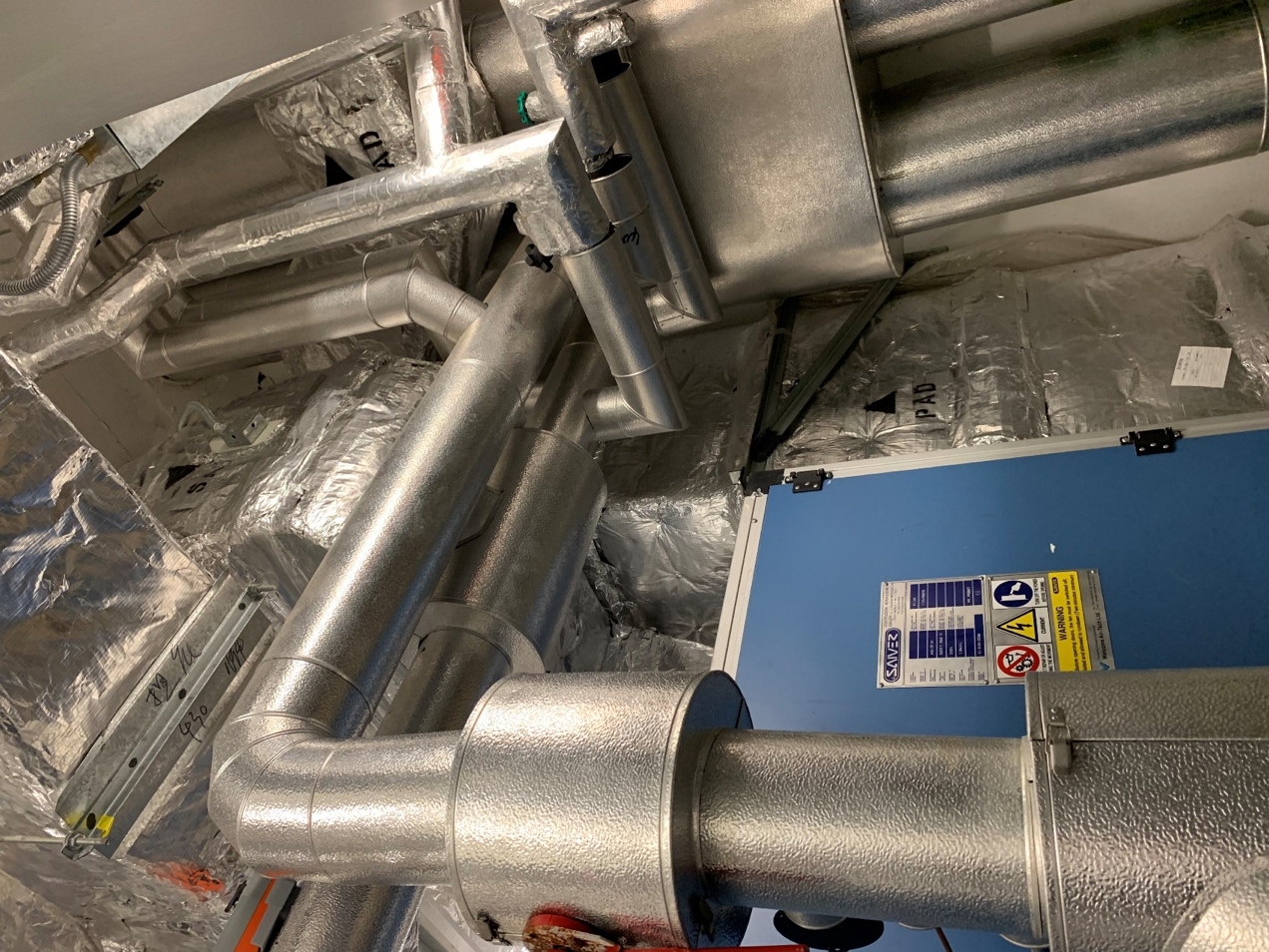 Caption: Ionbar installed at the Air Duct in the AHU room
Monitair's Bipolar Ionization technology is a harm-free long term natural solution that removes surface and airborne viruses, bacteria, TVOCs, odors, and indoor molds. It cleans HVAC and tenant areas with a proactive purification solution which, unlike other UV or spray treatment solutions, leaves no harmful byproducts behind. There is zero ozone produced with Bipolar Ionization compared to other ionization solutions, which meets the standard of ASHRAE 62.1. As an initial project, Monitair installed its specialized air treatment devices at LHT TOWER's 17/F air ducts to improve that floor's IAQ. Specifically, 2 sets of Monitair's IonAir 1600 Ion bars were installed at the air ducts inside the floor's AHU room. Along with the Ion bars, air quality sensors, including the products Airthings for Business – Space Pro and Space Hub were also installed on that floor to establish real-time monitoring of air quality. Property management staff can monitor the air quality 24 hours a day and can respond immediately when an IAQ alert is triggered by the IAQ monitor. After installation, an optimal 7,000 ion/cm3 was achieved for this 5400sf indoor office space. High ion levels, proven by global independent labs such as EMSL and SHEBA, can deactivate viruses, bacteria, and mold.
As a Grade A office building, LHT TOWER was able to further improve its already high-level IAQ with bipolar ionization. IAQ is rated by the amount of PM1 (particulate matter, fine particulates with a diameter of fewer than 1 micron) in the air. The lower the measurement of PM1 in the air, the better the IAQ. At LHT TOWER, during non-office hours when the AHU and the bipolar technology devices were turned off, a normal PM1 decreasing rate of 21.7% in 2 hours, from 23 ug/m3 to 17 ug/m3, was measured. However, when the AHU and bipolar technology devices were turned on during office hours, the amount of PM1 in the air decreased drastically by 93.8% in 2 hours, from 16 ug/m3 to 1 ug/m3. Aside from PM1 measurements, a similar positive result was observed regarding Total Volatile Organic Compounds (TVOC) in the air. With the AHU and bipolar ionization off, TVOC values decreased 27.3%, from 99 ppb to 72 ppb in 2 hours at LHT TOWER. After turning on the AHU and bipolar ionization, TVOC values decreased 51% in 2 hours, from 104 ppb to 53 ppb. In conclusion, even though the IAQ at LHT TOWER was always at a good level, bipolar ionization still could further improve PM and TVOC reduction levels significantly.
A tenant at LHT TOWER stated that after the installation of the bipolar ionization air treatment devices, the indoor environment felt much better and the system always functioned smoothly. The real-time air quality data can conveniently be obtained by simply scanning the QR code which can be displayed in any public area at any time.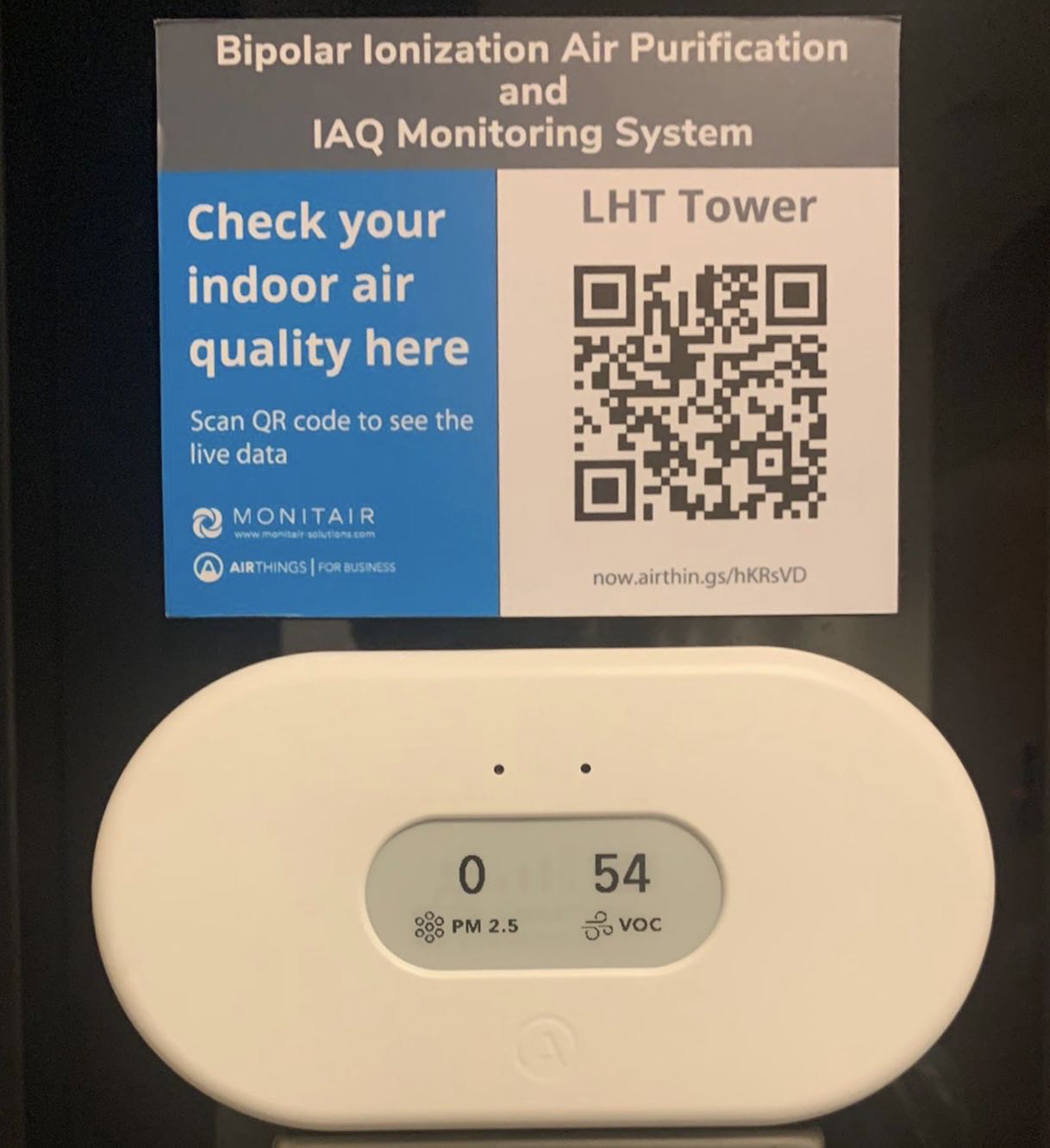 Caption: Monitair's IAQ Indicator located in public areas.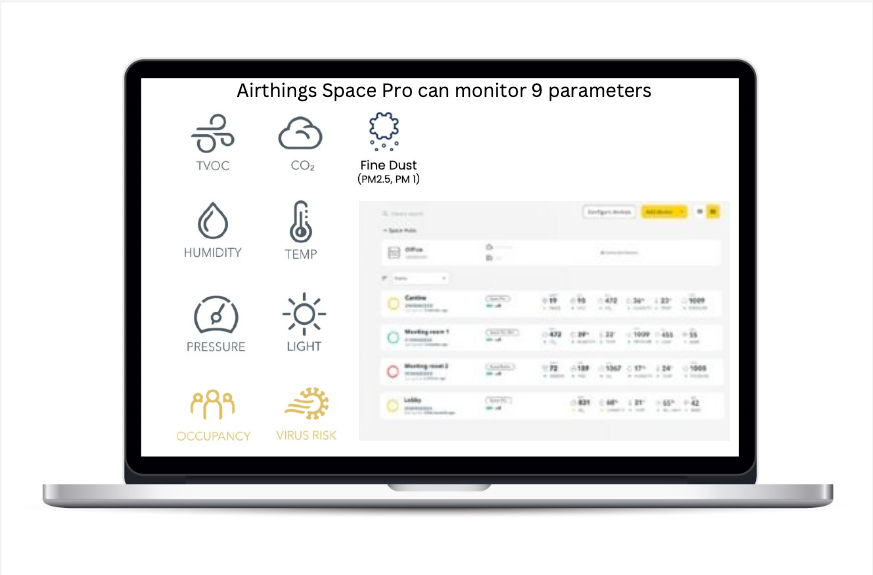 Ultimately, the implementation of this IAQ solution at LHT TOWER is in synergy with the well-known and respected United Nations Sustainable Development Goals including: (Goal 3) Good Health and Well-Being; (Goal 8) Decent Work and Economic Growth; and (Goal 9) Industry, Innovation and Infrastructure. In addition, there is a potential for this IAQ technology to contribute to the achievement of Green Building Certificates such as WELL and RESET standards.
---
1 ability to provide a safe, healthy work environment and to promote optimal physical & mental health for employees and workers.
2 operations with local community engagement, impact assessment and development programs.