In view of the increasing demand of Modular Integrated Construction (MiC), Global Virtual Design and Construction Limited and VHSoft Technologies Limited, both are the subsidiaries of Yau Lee Holdings Limited, together with a local startup namely iC-full Security Management Limited have jointly developed BEANiE in 2019 based on the philosophy of Common Data Environment (CDE) and City Information Modeling (CIM). BEANiE, Hong Kong's first BIM-enabled blockchain multifunctional platform, is designed to improve the full lifecycle management of MiC in particular traceability, from manufacturing, QA/QC, delivery, installation, safety, handover to maintenance, via the adoption of RFID, BIM and blockchain technologies.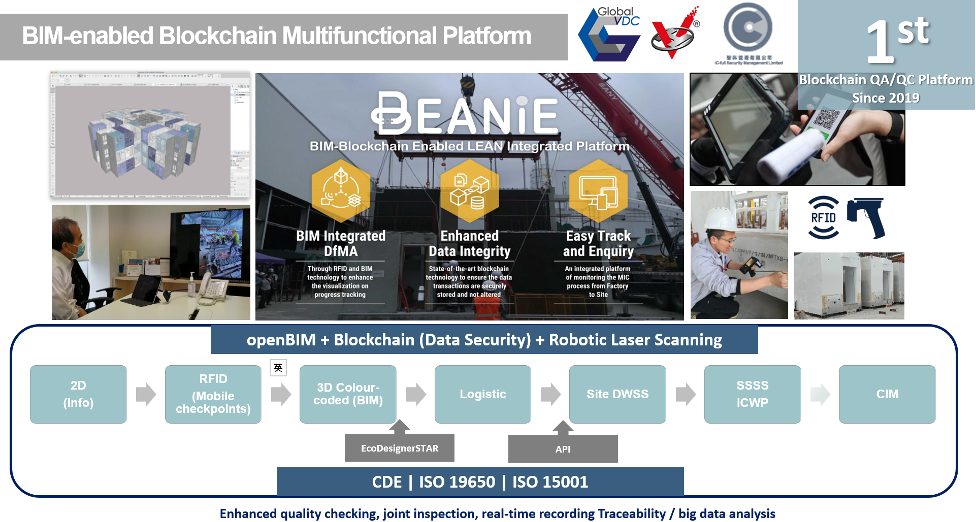 Why important?
QA/QC system for the production of MiC modules in factory is obviously a great challenge bring the most of the subsequent trades of work to upfront production stage. Therefore quality tests and control procedures should be carried out for all critical and detailed sequence including production and installation. In addition, large number of MiC modules is being delivered to the site on a daily basis. Since the normal construction site in Hong Kong is with very limited storage area, just-in-time delivery strategy is important to maintain the site smooth logistic and at the same time to feed the construction workfront with required quantity of MiC modules every day. As a result, a highly secured multifunctional platform to provide the most efficient way for the whole project team to communicate seamlessly without geographical limitation to ensure the productivity, quality as well as time and cost is essential.
How does BEANiE work?
BEANiE enables users to properly record, register, file or upload the test/inspection data to reliable online platform for a real time tracking and monitoring the status of every single MiC unit at each step of production. BEANiE is equipped with RFID MiC Progress Monitoring eForm System, BIM Integrated Viewer and Blockchain Browser for record enquiry as well as custom-made modular services to cater specified requirements from different offsite or onsite users such as client/government, architects, designers, consultants, contractor and manufacturer, etc. It is a highly secured multifunctional and multilayer platform to provide the most efficient way for the whole project team to communicate seamlessly without geographical limitation for the enhanced productivity, improved quality as well as reduced costs and time in terms of MiC production and installation.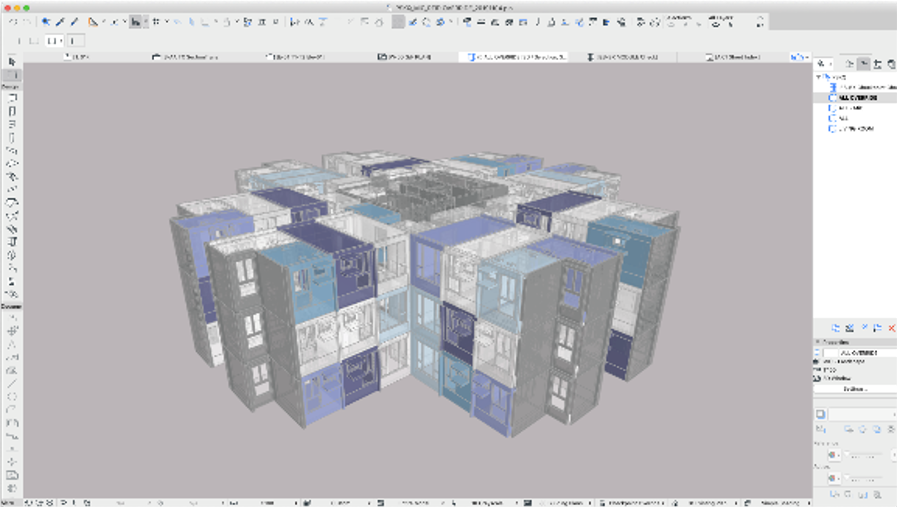 BEANiE also enables any authorized personnel at any time to access and track any piece of MiC unit on its completion and quality checking status. Remote inspection is also available in BEANiE platform. Without physically travelling to the factory in China when there is any limitations like COVID-19 pandemic, end users can arrange remote joint inspection and the inspection data can be securely recorded on the conventional database while BIM database and critical checkpoint could be additionally logged to a blockchain server to ensure the data transactions are securely stored and digitally ledgered. In addition, a mobile BIM viewer with colour-coded system provided in BEANiE platform enables offsite management to instantly understand the current MiC progress checkpoint status and better installation progress and payment tr acking are eventually faciliated. Offline management can also further enquire the inspection history thr ough a bloc kchain browser hyperlink to understand the entire transaction history.
Progression of BEANiE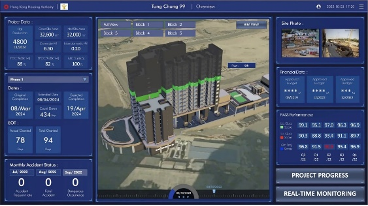 BEANiE has been enhanced to Version 6.0 since its establishment. From the initial BEANiE 1.0 catering the management of MiC production, quality assurance (QA) and quality control (QC), delivery and installation, BEANiE has gradually developed to include Digital Works Supervision Systems (BEANiE 2.0), fleet management and drivers' wellness (BEANiE 3.0), CCTV and Dashboard (BEANiE 4.0), Traceability and Safety/Smart Site Safety System (BEANiE 5.0) and Smart Command Theatre (BEANiE 6.0).
Construction Digitalisation and What next for the Industry?
In the future, the challenges of smart construction will continue to loom large. There is a need to use smart technologies to minimize the negative impact associated with construction activities as well as to maximise the benefits that buildings can bring to the community. As a result, smart construction will be widely adopted thus overall project sustainability performance can be improved with resources more optimized, costs reduced and safety enhanced. Most importantly, Environmental, Social and Governance (ESG) and the Sustainable Development Goals (SDGs) can also be achieved to bring a better future to the community.